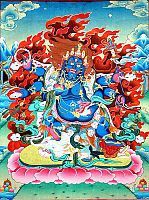 Pacifying The Turmoil of the Mamos
Please join us in pacifying the turmoil of the mamos.
During the days immediately before Shambhala Day (the Tibetan Lunar New Year), we come together to recite the chant, Pacifying the Turmoil of the Mamos, multiple times. It is an elaborate protector offering that pacifies the karmic causes of personal, social, and environmental chaos accumulated at the year's end. By reciting this chant, we tune into the protector principle of awareness, reconnect with sacred view and go into the new year with a fresh and open outlook.
Special Event:
Please join us on Sunday February 16th 10:45 am - Protector Practice Talk "Relating to the Mamos" with Chris Bacon. Chris is currently the Rusung for Santa Rosa and was previously the Rusung in Denver where he supported the court in a leadership role. He has been in the Kasung since 2005.
Although Pacifying the Turmoil of the Mamos is traditionally recited by Vajrayana practitioners, all practitioners are invited to participate.