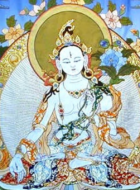 ONLINE White Tara
with Shastri Joanne Martin Braun
White Tara
White Tara is one of the most famous bodhisattvas of compassion in Tibetan Buddhism. Emanated from the tears of the compassionate Avalokiteshvara, peaceful White Tara is said to witness the suffering of beings through her seven eyes, and she soothes their fear, calms their anguish, heals their suffering—both individual and communal—and extends their lives. This is a lineage practice particularly relied upon in times of domestic and community turmoil and disharmony, and when personal or family health is threatened.

White Tara practices have long been popular in Kagyu and Nyingma communities; this particular short practice was composed by Sakyong Mipham Rinpoche.
SPECIAL NOTE ABOUT REGISTRATION AND ONLINE PRACTICE: This practice event will be offered online through the Zoom platform. We do ask that you register for these classes. In order to receive the Zoom link for this offering, you must register below.
Our generosity policy: https://sonoma.shambhala.org/community/generosity/
Questions? contact [email protected]