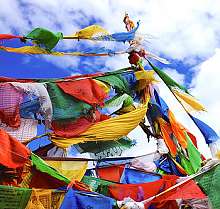 The Drala Lineage of Mukpo
with Jesse Miller & Irv Kirschbaum
"The Drala Lineage of Mukpo, you bring about the new golden age. Grant your blessings so that I may liberate all beings." --from the Supplication to the Shambhala Lineage chant
Our morning chants include the "Supplication to the Shambhala Lineage" that begins, "Primordial Rigden, All Good Samantabadra…" Many of us chant it regularly, but we may have questions about the meaning of the words? Indeed, they include some of the most profound teachings within the Shambhala tradition. Please join us for a morning of practice and mutual exploration through meditation, sacred art and discussion of the dharma teachings embedded in this chant.
About The Teachers
Jesse Miller has been a student of Chögyam Trungpa Rinpoche and Sakyong Mipham Rinpoche for over 40 years. He is a Senior Teacher in the Shambhala Buddhist Tradition and has worked on several large programs with Ani Pema Chödrön. Jesse is known for his welcoming manner as well as his big hearted and accessible teaching style. Currently, Jesse lives with his wife Evelyn in the Bay Area.
Irv Kirschbaum came to Shambhala in 2007, has been a Meditation Instructor since 2010, and a teacher in Shambhala for the past several years. Irv held the post of Regional Director of Practice & Study for Northern California Shambhala and was a long-time Director of the Sonoma Shambhala Center. He currently serves on Sonoma's Program Planning Committee. In his free time, he's an HR Director for a pharmaceutical company that develops medicines for people suffering with central nervous system diseases and plays in the Barbary Coast Recorder Orchestra. He lives with his husband and two stunning Maine Coons in the hills near Lake Berryessa, east of Napa, California.
Generosity Policy Applies
Please donate what you can and don't let money be an obstacle to attending. Whatever monetary contributions you make are helpful during these challenging times.
Special Note About Fees
This program is being offered as a fundraiser for the Berkeley and Sonoma centers, and the fee income will be evenly distributed between these two centers.
Registration
In order to receive the Zoom link in time for the program, you will need to register at least 24-hours in advance. Questions about registration, email [email protected]
Contact
If you have any questions about the program, please contact Jesse: jmill64 [at] gmail [dot} com
About Zoom
This program will be presented on the Zoom platform. It is available for computers, smart phones, and tablets. You will need to download the free app on your device before joining the session. Once it is loaded, click the link and follow the prompts to join the session. It is best to join 5 minutes in advance so that you are set up when the session begins. And, please mute your mic before joining to avoid background noises which are multiplied with many participants.
Learn more about Zoom here: https://zoom.us
You can find is a list of Zoom FAQs at this link