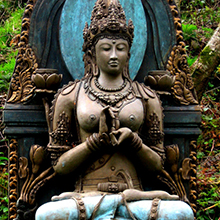 Deepening in Compassion Series IV: Lojong and Compassionate Engagement
ONLINE Deepening In Compassion Series IV:
Lojong and Compassionate Engagement
A group of Shambhala Acharyas recently led the community in a series of talks which included contemplative and meditation practices from the Mahayana teachings of our Shambhala Buddhist Lineage.
This part IV of the series continues with six Sundays of previously recorded video talks on lojong and compassionate engagement. These video talks will be supported by a facilitating teacher who will answer questions as well as lead discussion online together with participants each Sunday.
SPECIAL NOTE ABOUT REGISTRATION AND ONLINE PRACTICE: This practice event will be offered online through the Zoom platform. We do ask that you register for these classes. In order to receive the Zoom link for this offering, you must register at least 24-hours in advance below.
The Six Week Series:
August 23rd - Intro, Tonglen with Pema Chödron, Lojong - Acharya Gaylon Ferguson - F

acilitated by Irv Kirschbaum

August 30th - The Absolute Slogans - John Rockwell -

Facilitated by Jesse Miller

September 6th - Relative Slogans Part I - Holly Gayley -

Facilitated by Shastri Charlotte Linde

September 13th - Relative Slogans Part II - Acharya Fleet Maull -

F

acilitated by Marcia Clayburg

September 20th - Bodhichitta in Everyday Life - Acharya Susan Skjei - Facilitated by Rachel Anderson

September 27th - The Vow of the Bodhisattva Warrior - Acharya Susan Chapman -

Facilitated by

Basha Hirschfeld
Cost:
6 Sessions: $60 Regular. $80 Patron which supports offering programs at a discount as well as the Sonoma center. To participate in single sessions, please register each week
Individual Sessions: $15 each session, please pay and register each week for single sessions.
Our generosity policy: https://sonoma.shambhala.org/community/generosity/
Questions? contact [email protected]