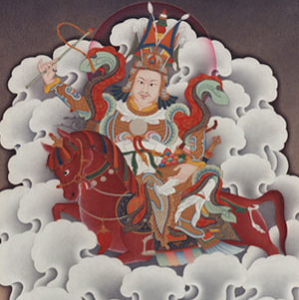 Meeting Shambhala: An Introduction to the Shambhala Lineage
with Walker Blaine & Kerry Schwartz
Recorded talks by Walker Blaine with group discussions facilitated by Kerry Schwartz
How could learning about lineage, and the Shambhala lineage in particular, help us in these difficult times?
Each of us has a personal and ancestral lineage that has contributed to who we are today. Out of love and respect, we might choose to honor the best of what we've been given. The Shambhala teachings and meditation practices also come down to us from a long line of meditation masters and realized teachers going back to the historical Buddha, and also from the ancient traditions of "Tibet, Japan, China, and so on…", with wisdom being passed down through the centuries. Learning about and appreciating this profound tradition can give us the confidence that the teachings we receive today are authentic and have stood the test of time. And, in that way, we can be inspired in our own spiritual path by those who have gone before. At this time "of plague, famine and war," we need this confidence more than ever!
The course, a progressive exploration of the core elements of the Shambhala Buddhist tradition, which is the union of warriorship and Buddhism, is designed for all levels of practice and will be of interest to new and seasoned practitioners alike. This course format is recorded talks given by Shambhala's Master of Liturgies Walker Blaine with group discussions facilitated by Kerry Schwartz. We will begin our exploration with an overview and introduction to lineage and lineage holders over two Sundays, and with ample interest arising, we will delight in offering subsequent classes.

About the Teacher

Walker Blaine has been part of the Shambhala community for 35 years, spending many of those years working, living, or on retreat at our land centers. In addition to being a student of Sakyong Mipham Rinpoche and the Druk Sakyong, Walker has studied intensively under the guidance of Khenpo Tsültrim Gyamtso.
Since 2012 Walker has provided background support for the texts and instructions of the Shambhala lineage, as well as overseeing Tibetan translation projects for Sakyong Mipham Rinpoche. His account of the Rinchen Terdzö received by the Sakyong in 2008 can be downloaded here. Walker lives with his wife and son in Halifax, Nova Scotia. His two albums of Shambhala and Buddhist music are available on iTunes.

Cost
Program Price: $30
Patron Price: $40
*Paying the patron price helps the Sonoma Center offer affordable programs.
Our generosity policy can be found at this link.
Registration
Please register and pay at least 24-hours in advance in order to receive the Zoom link.
Contact
If you have any questions, contact Susie Cook:
sonoma [dot] shambhala [at] gmail [dot] com
About Zoom
This program is through the Zoom platform. It is available for computers, smart phones, and tablets. You will need to download the free app on your device before joining the session. Once it is loaded, all you need to do is click the link and follow the prompts to join the session.
It is best to join 5 minutes in advance so that you are set up when the session begins.
Learn more about Zoom here: https://zoom.us
You can find is a list of Zoom FAQs at this link.