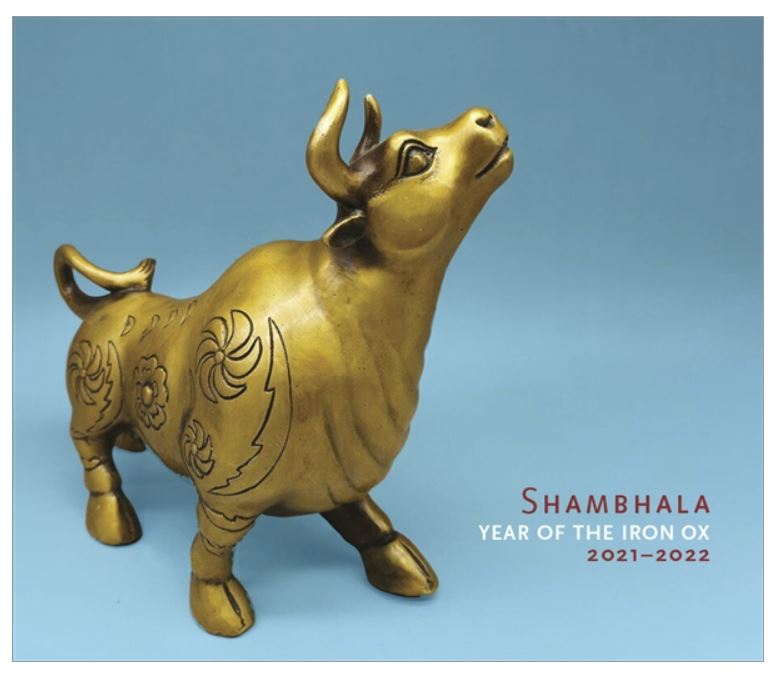 Shambhala Day Celebration
2021 Year of the Iron Ox
This Shambhala Day Celebration's theme is Celebrating Shambhala Culture. The Live Worldwide Event will include a lhasang, kyudo shot, ikebana demonstration, tea ceremony demonstration, calligraphy exhibition and a Miksang presentation. There will also be worldwide group practice and greetings shared from throughout our worldwide community. There will be new components to this year's broadcast as well as some more traditional elements.
This Shambhala Day Celebration can be viewed live on Friday, February 12. And, Sonoma Shambhala will be hosting a replay of the Shambhala Day festivities on Sunday, February 14.
Shambhala Online February 12th Event
Members who would like to join live event on February 12 can do so on zoom here: https://zoom.us/j/92837951308
Details of the Shambhala Online event found here: https://shambhalaonline.org/calendar-details/?id=467225
Sonoma's Local Celebration on February 14th
Join us this valentine's day to celebrate Shambhala Day together online. We will view the annual Shambhala Global Services Shambhala Day recorded video of the broadcast and celebrate together.
SHAMBHALA DAY marks the beginning of the New Year, and represents one of the most important traditions of Shambhala Buddhism. Based on the traditional Tibetan New Year's celebration of Losar, the day is calculated astrologically according to the Tibetan lunar calendar, and changes every year to coincide with the annual lunar cycles.
Shambhala New Year 2021 will usher in the Year of the Iron Ox. The Iron Ox has a strong quality of earth, and discovering what is already naturally available to us. The Ox doesn't have to look far to find what is needed. The Ox year is also connected with unity, and focusing on hard work – such as ploughing the fields. We are advised not to be too hasty in Ox years, but to take time for consideration before acting or making decisions. It is said that some efforts planted in the Ox year will take time to harvest and enjoy fruition.
A Message from Shambhala Global Services: Since last year's Shambhala Day, it seems as if the challenges so many of us have been experiencing have only intensified. Not only do we continue to grapple with the many divergent views in Shambhala about the Sakyong and our path forward, we have faced the existential threat and upheaval of a once in a century pandemic that has caused hardship and suffering for so many. It is our hope that this year's Shambhala New Year celebrations can be a way for us to connect – both as a way to build bridges amongst differences of view, and to nurture and support one another during the very real isolation so many are experiencing. We will do our best to create a Shambhala Day broadcast that will feel inclusive and that will celebrate what we have in common.
Sonoma's Schedule:
10:00. AM. Welcome with ChrisB
10:15. AM. Sit for 10 minutes
10:25. AM. Watch Shambhala Onliine New Year's video together with Peter
11:20. AM. 10 min Bio Break and get your own tea
11:30. AM. 10 min. Shambhala Day Fundraiser comments and clarifications with Diana
11:40. AM. Celebratory Discussion: What are we participating in ? So many rich offerings. How is that going ? What are we attending ? with Shastri Joanne
12:15. AM. Invitation to linger and talk more
Join Zoom Meeting
https://us02web.zoom.us/j/7963479162?pwd=V254ZFNnYjhHM00zU016S2pRQnBIdz09

Meeting ID: 796 347 9162
Passcode: TashiDelek