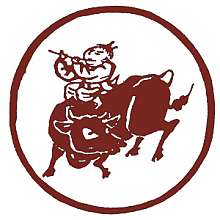 The Path To Enlightenment: 10 Pictures and 6 Stanzas
with Lou Braun
In both the Zen and the Tibetan Vajrayana tradition, the path to enlightenment was long ago summarized in simple yet profoundly meaningful teachings by great teachers. In this class, we will look at two of them, The Ten Oxherding Pictures and The Supplication to the Takpo Kagyu.
In Zen, a herdboy's search for his lost oxen was illustrated in a parable of 10 pictures by the 12th century Zen master, Guoan Shiyuan. Marvelously beautiful verses accompany each illustration and poetically describe the key stages of the herdboy's journey to transcendence and ultimate return to society.
We will then compare the Zen teaching with the Supplication to the Takpo Kagyü, which was composed in the 15th century by the lineage holder Pengar Jampal Sangpo at the end of 18 years of retreat. While extraordinarily profound, the text is quite accessible and expresses the key stages of the Vajrayana path to liberation in a very concise way. What it points out can be put into action and applied immediately.
In our time together, we will look at how these paths of inner transformation resonate (or don't resonate) with our own personal journeys. Along the way we will focus on some key questions:
How are feelings of disillusionment & revulsion fuel for the path?

What is the meaning, importance, and role of devotion?

What is "non-conceptual" awareness?

What does it mean to be enlightened and what good is it anyway?
In our class, active participation and group discussion will be welcomed (though not required if you're feeling shy). These are wonderful teachings which have stood the test of time. They are a gift to all of us.
About the Instructor
The course will be led by Lou Braun who has practiced meditation for 30+ years and whose teachers include Sakyong Mipham Rinpoche, Chogyam Trungpa Rinpoche and other prominent Tibetan Buddhist teachers. He currently works for a software company in the Bay Area.