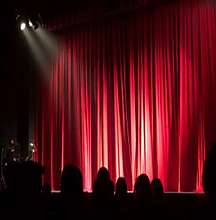 No Laughing Matter: Comedians of Color Tell It Like It Is
with Janet Ryvlin & Denise Blanc

Please Note: This program has been Cancelled.
No Laughing Matter
Comedians of Color Tell It Like It Is

In this class, we will use the novel method of listening to and watching BIPOC comedians to uncover the subtleties of our white conditioning and privilege and explore some of our blind spots around implicit bias and microaggressions. By viewing short videos from comedians of color, we will look at how the unconscious views within our white supremacist society create a screen that prevents us from understanding and seeing systemic racism and the glaring inequities in our culture.
With basic goodness as the ground, we will support each other in being vulnerable and open as we co-create a safe container to explore new ways of being in our world. Together we will share in uncovering uncomfortable truths about our often-unconscious role in perpetuating racism in society and explore ways we can help create a world that fosters equality and equity for all people.
This class is designed for people who identify as white and who have a strong interest in learning about what white people can do to change the racist culture we live in. It will take place on Zoom.
Saturday, October 23rd
10:00 a.m. – 4:00 p.m.
Cost: $75.00
Or pay what you can afford. Nobody will be turned away for lack of funds. Write-in the amount.
Facilitators
Denise Blanc, MA has over two decades as Leadership Coach, Facilitator and Mediator. She has been a student exploring race, culture, and her own whiteness for the past 12 years and has participated in numerous trainings and programs including The Untraining and D2K (Diversity Think Tank). Denise has co-designed and developed numerous programs on race and culture for healthcare environments, as well as co-leading programs within Shambhala addressing white privilege. She has been a member of Shambhala since 2003.
Janet Ryvvlin has had a lifelog interest and concern about racial and social injustices in our world. Since retiring from Oncology Nursing in 2018, she has prioritized her efforts to learn about and facilitate education on inclusivity and diversity and has led programs in Shambhala to address white awareness, white privilege, and racism. She has been involved in The Untraining since 2018 and a student of Shambhala since 1976.
Registration
Please register and pay in advance of the program to make certain you receive all communications, including the link for the program. Our online payment system is set up to accept payment through PayPal.