eScrip
A unique approach to help support our Center financially
About the eScrip program
"The eScrip program is a proven and powerful fundraising program that allows participating merchants to contribute a percentage of purchases to the non-profit organization of your choice."
There are two ways of making use of this program
Shopping at Area Grocery Stores
The participating grocery stores in our area are Sonoma Market, Glen Ellen Village Market, Petaluma Market, Oliver's Market and Safeway. Our Center can earn up to 5% from the various markets and up to 4% from Safeway and Safeway.com. See below for more information.
Shopping at Online Stores through eScrip's Online Mall
When you shop through eScrip's Online Mall, our Center receives contributions on your purchases. There's a huge variety of online stores that participate in the program. And no sign-up or log-in is required.
A short list of Online Mall stores (with contribution percentages):
Amazon (2.4%)                         PetSmart (7.2%)
Nordstrom (6.0%)                     1-800-FLOWERS (12.0%)
Eddie Bauer (4.8%)                   Dell Home (4.8%)
Apple Store (1.5%)                   Apple iTunes (3.0%)
Best Buy (1.2%)                       Gap (3.6%)
REI (3.0%)                               Williams-Sonoma (3.6%)
Macy's (1.8%)                          GODIVA Chocolatier (4.8%)
Go here to see the complete list of Online Stores that are available through eScrip.
"eScrip's Online Mall is your one-stop shopping place for supporting your organization as well as receiving unbeatable coupons and special offers. More than 800 online stores offer products and services from computers & software to men's and women's apparel, jewelry, electronics, home and garden supplies, dining, travel discounts and so much more."
You can go to eScrip's Online Mall by clicking on the following image. When the page opens, select Add and click Next. Read the brief overview and then click the orange Shop Now button.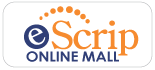 (or click on this link)
Shopping at our area grocery stores
Sonoma Market and Glen Ellen Village Market
You no longer have to register your credit or debit cards to shop at these two markets as they have adopted the eScrip Community Card Program.
Just pick up a Community Card form at either of the stores and fill it out (write Sonoma Shambhala Meditation Center on the "Other" line).
When you go shopping, simply present your card at checkout (if you forget your card, you can use your phone number instead).
Note that these two markets have stopped honoring debit and credit cards registered with eScrip, and so our Center will no longer receive contributions in this way. Please apply for a Community Card.
Petaluma Market, Oliver's Market and Safeway
To receive contributions from these stores, you must enroll at the eScrip website and register the credit or debit cards and grocery loyalty cards that you would like to use in the program.
How to Enroll and Register your Credit and Debit Cards
Go to this page to begin the enrollment process.
Enter Sonoma Shambhala Meditation Center for the group name. Click Search and follow the remaining prompts.
Be sure to use a password that you will remember when you exit, as you will need it to reenter the site if you want to register a different debit or credit card (or to update an expiration date), or if you want to track your purchases.
Remember to enter your Safeway Club Card number if you have one (not your phone number). If you don't know your card number, you can find out what it is by calling 1-877-723-3929.
If you have any questions or need help with enrolling, email Jean Wong, our eScrip Fundraiser Coordinator. She can be reached at [email protected].
"The eScrip program is run by Electronic Scrip Incorporated (ESI), a California-based corporation dedicated to establishing relationships between commerce and community and to provide resources to non-profit organizations. ESI introduced the eScrip program in 1999 and has distributed over $250 million to non-profit organizations across the country."
All non-profit organizations are eligible to participate in eScrip if they have programs that help to educate children. Because of our ongoing Family Day youth program, we qualify for contributions. Visit the eScrip website.