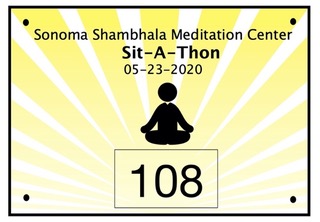 SIT-A-THON Online FUNdraiser
REGISTRATION FOR THE SIT-A-THON IS OPEN
Come Join Us for a Day of Peaceful Sitting in Community
Topic: Sonoma Sit-a-Thon
Time: May 23, 2020 08:30 AM Pacific Time (US and Canada)
Join Zoom Meeting
https://us02web.zoom.us/j/83592164690
************************
SIT-A-THON Schedule for Saturday, May 23, 2020
9:00-9:10 Morning Chants
9:10-9:40 Sit includes 10 min. Tonglen practice
9:40-9:50 Walking
9:50-10:20 Sit
10:20-10:30 Walking
10:30-11:00 Sit
11:00-11:15 Walking
11:15-11:45 Sit
*************************
LUNCH 11:45-12:45
*************************
12:45-1:15 Sit includes10 min. Tonglen practice
1:15-1:25 Walking
1:25-2:00 Sit
2:00-2:10 Walking
2:10-2:45 Sit
2:45-2:55 Walking
2:55-3:30 Sit
**************************
**************************
TEA 3:30-4:00 Refreshments and optional online chat
*******************
4:00-4:30 Sit includes10 min. Tonglen practice
4:30-4:40 Walking
4:40-5:10 Sit
5:10-5:20 Walking
5:20-5:40 Sit
************************
DINNER 5:40-6:30 Dinner Break
************************
6:30-7:00 Sit includes10 min. Tonglen practice
7:00-7:10 Walking
7:10-7:40-Sit
7:40-7:50 Walking
7:50-8:20 Sit
8:20-8:30 Walking
8:30-8:50 Sit
8:50-9:00 Closing Chants
Questions? Contact Chris Bacon #970-217-0730
-------------------------
Register early, so you will have time to reach out and get pledges from friends, colleagues, and family.
-To register, go to:
https://sonomashambhala.dojiggy.com/b723fe2/regPages/pages/?p=bf1cac92
and click on "Register to Sit" at the top of the page. It will step you through a short form. It takes just 1-2 minutes to register. All information is kept private and not shared in any way.
- Registering online is required so we can track how many people are sitting and when.
- Sitting will be led by an umdze, online, alone at the Center, from 9am-9pm, visible on Zoom. You can sit as many hours as you want, when you want, at home, connected to everyone via Zoom. You will specify those hours when you register.
- Our overall fundraising goal for our center is $4,000 and we hope each person can set a personal goal to raise $300. Example: If we get 20 sitters, each raising $15 from 15 friends, we're there! Even better, $25-$50 donations really add up! Let your personal power of persuasion shine, like rays of the Great Eastern Sun
- Your friends/family who pledge/donate to your sitting will donate thru your personal page on the website. Checks are possible too, as a back up.
- they can pledge a set amount or pledge per hour that you sit. Either is OK.
- After you have registered, you can set-up your own fundraising page on our sit-a-thon website. There is support to help you do this:
- online instructions
- "getting started" document you receive when you register
- trainings lead by Chris Bacon on how to set-up your personal page, if you need help. The first training will be on Sunday, April 26th at 2pm, and on May 1st at 10:30 a.m., via Zoom. Please email Chris (see below) if you want to attend.
- You can also email Chris or Diana with questions too: Chris Bacon: [email protected]. Diana Sanson: [email protected].
- If someone does not want to donate online, pledge checks can be made out and mailed to Sonoma Shambhala directly at: 255 W. Napa Street, Sonoma, 95476. Be sure they note it is for the Sitathon and whom they are sponsoring.
- We hope you will sit with us in community, supported by your pledge sponsors, in this essential fundraising day. Let's all connect together and sit to help keep our beautiful center as our place of refuge!
With warmest regards,
Your Sonoma Shambhala "Fun" draising Committee