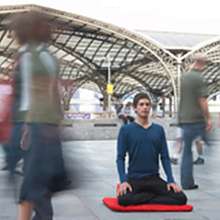 Resilience in the Time of Chaos: Engaging In Our World
with Barbara Hirschfeld
Engaging In Our World
Chögyam Trungpa Rinpoche created the Shambhala teachings and practices, knowing we were entering challenging times in the world. Over the next 5 months, teachers from Northern California will be presenting the foundational Shambhala teachings as we uncover our hearts, strength, and sanity in the midst of these chaotic times.
Schedule:
10:30 - 12:30 Opening talk and practice
12:30 - 1:30 Lunch break
1:30 - 3:30 Practice and discussion
3:30- 4:00 Tea - bring your own to enjoy together
4:00 - 5:00 Closing talk
About Basha Hirschfeld:
Basha has been a student of Pema Chödrön — and through her, the Vidyadhara Chögyam Trungpa Rinpoche, who founded Shambhala in the West, and now his son, Sakyong Mipham Rinpoche — since 2001. She lived in Asia for nine years and taught Health to middle-schoolers at the Jakarta International School while her husband explored for geothermal energy. She and her husband brought back many treasures from Asia, and started a store in Santa Rosa upon their return from the tropics. They closed the store in 2012, and many of the antiques, stone statuary, and Southeast Asian architectural elements are featured now in the Meditation Hall and placed throughout the 8-acre property that is part of
Open Sky Retreat Center
.
As a member of the Sonoma Shambhala Center, she volunteered to cook for Pema and thus a student-teacher relationship was born.
Cost
Program Price: $30
Patron Price: $40*
*Paying the patron price helps the Sonoma Center offer affordable programs.
Our generosity policy can be found at this link.
Registration
Please register and pay at least 24-hours in advance in order to receive the Zoom link. Note that all registrations must be manually processed and there will be a lag time before receiving the zoom link.
Contact Questions? Susie Cook:
sonoma [dot] shambhala [at] gmail [dot] com
About Zoom
This program is through the Zoom platform. It is available for computers, smart phones, and tablets. You will need to download the free app on your device before joining the session. Once it is loaded, all you need to do is click the link and follow the prompts to join the session.
It is best to join 5 minutes in advance so that you are set up when the session begins.
Learn more about Zoom here: https://zoom.us
You can find is a list of Zoom FAQs at this link.
Please join us for this day of practice, reflection, and community.