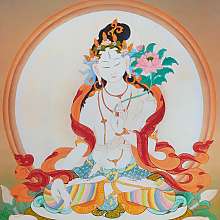 The Peaceful Practice Of White Tara
with Shastri Joanne Martin Braun
The Peaceful Practice of White Tara
With Shastri Joanne Martin Braun
Program time update: Saturday 10:30am to 1pm
White Tara is one of the oldest deities of love, compassion, and protection in Buddhism. Tara sees the suffering of beings and radiates the energy of healing in a way that is both profound and personal.
Our short daily practice for White Tara was introduced in our lineage to help heal stress and anxiety, address personal and social challenges, and promote well-being. Please join us in deepening our understanding of this remarkable deity through a day of talks, practice, and discussion.
About The Teacher
Shastri Joanne Martin Braun is a Senior Teacher, or Shastri, in the Shambhala Buddhist Tradition. Joanne is known for her friendly clarity and loving honest teaching style. Joanne has worked as the Regional Director for Northern California Shambhala. She lives here in Sonoma with her good humored spouse of many years Lou.
Cost
Program Price: $25
Patron Price: $40*
*Paying the patron price helps the Sonoma Center offer affordable programs.
Our generosity policy can be found at this link.
Special Note
This program will be offered on the Zoom platform. Register 24-hours in advance to be sure that you receive the link.
Questions? email: [email protected]